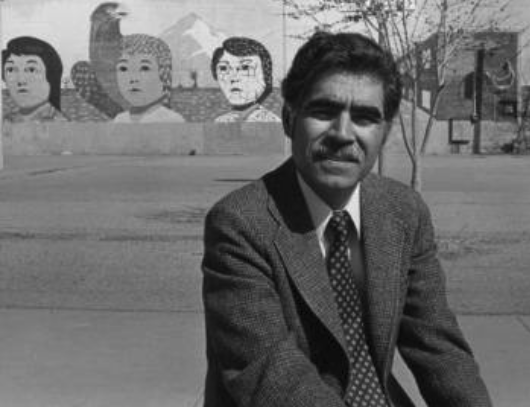 Rudolfo Anaya
 1963
Rudolfo Anaya was born in Pastura, New Mexico on October 30th, 1937, on that day, no one could have predicted that would one day become an incredibly important Chicano writer, and one of the most notable figures in the history of UNM.
Anaya first attended the University of New Mexico, starting in the school year of 1956-1957 and graduated with a Bachelor's Degree in English and American Literature in 1963. His interest in english and writing began at the University when he saw that writing could be a tool to show off his thoughts and concepts. He would go on to receive two more degrees from UNM, getting his Masters in English in 1968, and a masters in guidance and counseling in 1971.
In 1963, bolstered by his degree in English, Anaya began writing the novel that would make him a star, Bless Me Ultima. The novel was based deep in Chicano culture, with prose that would weave both English and Spanish into its narrative. It was published in 1972 and would sell over 300,000 copies. Since its initial release, Bless Me Ultima has been referred to as essential reading (according to PBS), a landmark achievement, and was even been adapted for the big screen in 2013.
Mr. Anaya came back to the University of New Mexico when he accepted a position as a professor there in 1974. He taught in the english department until 1993, when he chose to retire from teaching. He kept writing and published six books from 1992 to 1998, including his first children's book, The Farolitos of Christmas.
In 2002, Anaya was awarded a National Medal of Arts, and also received a National Humanities Medal from President Obama in 2016. President Obama said that "His works of fiction and poetry celebrate the Chicano experience and reveal universal truths about the human condition... and as an educator, he has spread a love of literature to new generations". Anaya still lives in Albuquerque where he resides with his wife and spends his days writing. UNM students can still contact him through the english department where he is a Professor Emeritus.
Anaya's undeniable impact on the world of Chicano literature is still being felt to this day, and Bless Me Ultima now resides on PBS' list of "Top 100 Great American Reads."  The University of New Mexico is proud to recognize Mr. Anaya as an alumus and faculty member. He maintains his legacy through multiple Chicano studies courses, as well as having his National Medal of Arts proudly displayed in the Southwest Research Center at Zimmerman Library.
Phillip Chavez, Political Science, 2019
---
Further Reading:
Anaya, Rudolfo A, Bruce Dick, and Silvio Sirias. 1998. Conversations with Rudolfo Anaya.
Literary Conversations Series. Jackson: University Press of Mississippi.
Britannica, The Editors of Encyclopaedia. "Rudolfo Anaya." Encyclopædia Britannica.
Encyclopædia Britannica, inc. Accessed September 15, 2019.
https://www.britannica.com/biography/Rudolfo-A-Anaya.
Coleman, Michael, and Journal Washington Bureau. "Rudolfo Anaya Honored for 'Pioneering
Stories'." Albuquerque Journal, September 23, 2016.
https://www.abqjournal.com/851424/rudolfo-anaya-honored-for-pioneering-stories.html.
Rudolfo A. Anaya Papers, University of New Mexico, Center for Southwest Research.
Image Via The Center for Southwest Research at UNM, photographed by Cynthia Haines as part of her Writers of the Southwest Project http://elibrary.unm.edu/cswr/https://econtent.unm.edu/digital/collection/Manuscripts/id/815