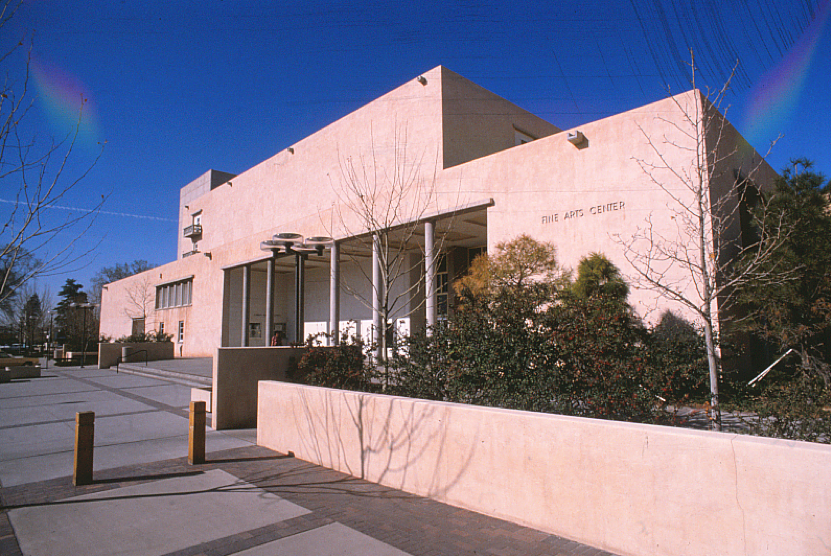 Popejoy Hall
 Circa 1966
POPEJOY HALL opened in 1966 after years of conflict regarding its creation. It is named after Tom Popejoy, who spent almost all of his twenty years as President of the University of New Mexico trying to get a performance art hall built on campus.  Popejoy Hall's founding was a turning point for the University of New Mexico because of its impact on the State by bringing Broadway and other first-rate theatrical productions to its residents.  Popejoy Hall seats almost two thousand people and is the largest venue of its kind in New Mexico.
Tom L. Popejoy was President of the University of New Mexico for twenty years, from 1948 until his retirement in 1968.  He remains the longest serving president in the school's history.  Popejoy was an advocate for academic freedom and a strong supporter of the arts. At the time he became President, Albuquerque was without a large performance art and concert venue even though one had been in the works since the 1920s. 
In the years leading up to building Popejoy Hall, the city of Albuquerque considered multiple plans that were all eventually abandoned.  The auditorium the University was planning to build was supposed to seat two thousand people, which was much too small for Albuquerque Mayor Clyde Tingley who wanted one that seated seven thousand.  In 1953 the city of Albuquerque formally requested a site be built at Central Avenue and Cornell Drive for the concert hall.  The University Regents initially agreed, however; their resignations shortly thereafter delayed the building breaking ground.  Eventually, the city of Albuquerque and the University of New Mexico went their separate ways.  The city sought to build a sports arena and the University pursued the arts by planning a performance arts and concert venue.  President Popejoy worked tirelessly for another ten years to raise the two and a half million dollars it took to build the performance hall.  Finally, on October 1, 1966, the UNM concert hall that would eventually be given his name officially opened.
The opening of Popejoy Hall was a landmark for the University of New Mexico in many ways.  First of all, the Hall has enabled the University's art programs to expand far beyond what they could without a formal venue.  Popejoy also has fulfilled its mission to provide access to performing arts for all people in New Mexico.  Performances, as well as classes, are routinely put on by and for groups of local school children exposing them to fine arts on field trips not to mention providing local residents access to first-rate Broadway shows right here in Albuquerque.   As a result, Popejoy Hall has become an important and integral part of the community.  Without it, the University of New Mexico would be a less welcoming, and connected part of our city. By bringing arts and entertainment in such a beautiful venue, Popejoy Hall enriches us all as members of the UNM community and the city of Albuquerque.
Lucia DeMartino, History, 2020
Popejoy Hall, Photo courtesy of the Center of Southwest Research, University of New Mexico, UNMA 028, Box 48.
Further Reading:
Popejoy Presents, University of New Mexico Center for Regional Studies, 2016,
popejoypresents.com/about/popejoy-50.