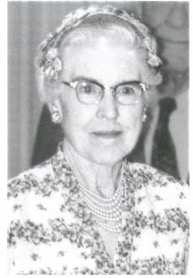 M. Alice Bassett Holloman
 1927
M. Alice Bassett Holloman is a long forgotten, but influential member of the University of New Mexico Board of Regents. Mrs. Holloman was likely born in 1884 in Indiana.  She was married to First Judicial District Court Judge Reed Holloman and they lived in Santa Fe.
In 1927, Mrs. Holloman was appointed to the University of New Mexico Board of Regents by Governor Richard Dillon.  On January 21, 1927, the New Mexico Lobo reported that the first order of business by the new Board of Regents was to elect Mrs. Holloman Board President. Another immediate action by the Board was to place University President David Spence Hill on leave and elect James Fulton Zimmerman as president.
During Mrs. Holloman's tenure as Regent President, she had a close working relationship with University President Zimmerman.  In a letter she sent him on October 31, 1930, Mrs. Holloman states that she feels it is "too bad that 'mere money' [needs] to be considered so often" showing her devotion to the students of the University.  One important event occurred on October 7, 1929, when President Zimmerman sent a telegram to Mrs. Holloman to ask if she thought it would be acceptable for the UNM football team to travel to Los Angeles by airplane.  As Mrs. Holloman was out-of-town, her husband replied that he did not believe airplane travel was safe enough.  She eventually responded stating that she supported whatever Zimmerman decided.  And so, the first team flight was scheduled and the historic picture of the players surrounding the small airplane on campus was taken.
On December 7, 1930, Mrs. Holloman tendered her resignation as a member of the Board of Regents to President Zimmerman.  He replied in a heartfelt letter in which he thanked her for the "innumerable kindness" that she had showed both him and his wife.  He went on to say that it had been a "source of great pleasure" to work with her and that his memories of being under her direction as President of the Board would be "most pleasant."  They continued to write each other long after her resignation.  It is plainly apparent from this correspondence that he would not have been the great President without her guidance in those first years. 
Mrs. Alice Bassett Holloman's later years were spent attending University events and hosting guests at her home in Santa Fe.  She once hosted the famed opera singer Josephine Antoine, along with members of the Chi Omega Sorority of which she was an alum.
Lucia DeMartino, history, 2020
Further Reading:
James Fulton Zimmerman Papers, Center for Southwest Research, University Libraries, University of New Mexico, Call # UNMA008, Box 5.
University of New Mexico. "New Mexico Lobo, Volume 029, No 17, 1/21/1927." 29, 17 (1927).
University of New Mexico. "New Mexico Lobo, Volume 042, No 19, 11/14/1939." 42, 19 (1939).