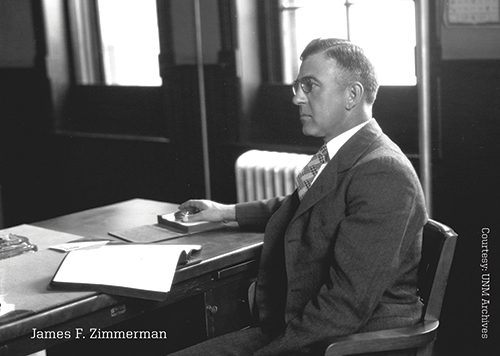 James Fulton Zimmerman
 1937
JAMES FULTON ZIMMERMAN ( 1927-1944) Professor of political science and eventually the 7th president of UNM, is remembered as one of the most influential, beloved and impactful leaders that the university has ever seen. During his long tenure UNM underwent exceptional growth. With an increased focus on scholastic programs, including the addition of more graduate studies and research, as well as an "intensive building program" that focused on the campus architecture,  Zimmerman helped to shape the university into a modern, unique, relevant power in the southwest, leaving a lasting and extremely impactful mark on the university that resonates to this day.
Born in 1887 in Glen Allen Missouri, the future president was by no means a New Mexico native. But like many before him was enchanted by the quirky town of the then growing Albuquerque. Receiving his degree from Vanderbilt and his Phd from Columbia shortly before coming to the university in 1925, He took the office of the president in 1927, just two short years after arriving on campus. His long tenure in office continued the work of previous presidents, while also quickly working to unify the university as well as focus on academics, which resulted in the first postgraduate studies in the southwest. He heavily supported scientific research, which at the time was a primary source of funds for many universities including UNM. This not only allowed for rapid development of these advanced studies at UNM, but provided extra funds for other programs such as adding key structures to the still empty campus.
One of Zimmerman's most impactful projects lies in the unity and style of the campus. Zimmerman continued this "Spanish-Pueblo Revival" style of architecture that was utilized for Hodgin hall and was pulled into the rest of the campus by his choice of architect, John Gaw Meem. He tailored his southwest style plans with the aim of unifying the campus with. Several major campus buildings erected during this short period followed this style such as, the administration building (now called Scholes hall), the athletic complexes, and of course the Zimmerman library. The latter, with its momentous and incredible design, many consider to be the most beautiful building on campus. It is a constant reminder of Zimmerman's passion and dedication to an institution he loved.
Zimmerman represents a turning point for the university in more ways than one. He took the visions laid forth by previous presidents and turned them into reality, effectively unifying and expanding the campus much farther than originally thought possible. Not just in terms of physical size, but of impact. Zimmerman pushed the boundaries of the university until his quick and untimely death in 1944, thereby ending his presidency prematurely. Despite this, however he left an indelible mark on the university, one generations of students have appreciated and experienced.
Gwen Orr, East Asian Studies, '20
Further reading
Davis, William E.. "James Fulton Zimmerman - Biography," UNM Digital Repository, Accessed Oct 3 2017
Flint, Richard and Flint, Shirley, "James Fulton Zimmerman," Office of the State Historian, Accessed Sep 22, 2017
Paul Walter, James Fulton Zimmerman, 1887-1944, New Mexico Historical Review