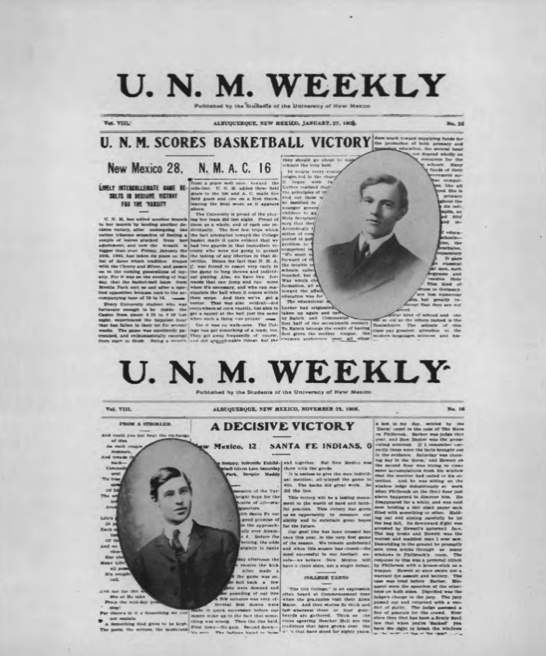 Founding of The New Mexico Daily Lobo Student Newspaper
 1895
The student-run newspaper has been a near constant presence in the history of the University of New Mexico. The New Mexico Daily Lobo serves as a resource to students and carries 125-years of University history within its many pages, names, and iterations.
Today, the newspaper has the third largest distribution in the state of New Mexico.
The paper's humble beginnings started in 1895 when The Cactus, a student-run newspaper, began to circulate on the UNM campus. However, it didn't last more than a school year and only released a few issues.
Three years following the false start, another group saw the need for a student newspaper at UNM. The Mirage began circulation in 1898 and started the legacy of the Daily Lobo as we know it. The aim of "The Mirage" was as follows: first to advocate higher education, specifically in New Mexico; second to uphold the standards of UNM; third to promote literary excellence among the student body.
During the first year, students managed the newspaper much like a magazine. It carried mainly profiles, student essays, and feature stories within its pages. In 1903, the publication switched to printing weekly to cover more current events — the suggestion of UNM President George Tight. 
After this, the name changed to the UNM Weekly, reflecting its new weekly publication. The rebranding allowed the paper to boast more revenue, stability, and wider circulation. The UNM yearbook solely held The Mirage after this newspaper name shift.
The UNM Weekly could be seen around campus for nearly two decades until 1923 when it saw its next name change to the New Mexico Lobo. It maintained its weekly publishing schedule until 1937 when it transitioned to semi-weekly. 
The final iteration of the New Mexico Daily Lobo came in the spring of 1974 when the organization took on the name all students now know them by.
Today, the newspaper published in print on a semi-weekly basis, however it still maintains the "daily" portion of the name. Still, the goal of the organization is to publish work online daily and serve as a crucial steppingstone for upcoming journalists. It maintains to be a student-run publication to this day.
 The paper currently boasts a circulation of 10,000, serving UNM Main campus and branches. Although the transition to digital has been difficult, the Daily Lobo still persists to share the happenings on campus with students. 
Makayla Grijalva, Multimedia Journalism and Political Science, 2020
---
FURTHER READING:
University of New Mexico. "The Mirage, 1906." (1906). UNM Digital Repository https://digitalrepository.unm.edu/unm_yearbooks/1
University of New Mexico. "The Mirage, 1939." (1939). UNM Digital Repository https://digitalrepository.unm.edu/unm_yearbooks/55
PHOTO: Front pages of the UNM Weekly newspaper. The Mirage Yearbook 1906