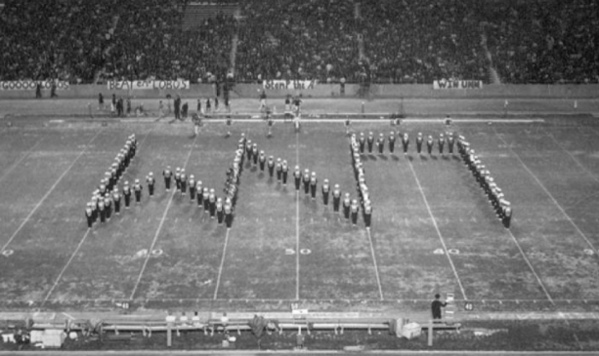 Fight Song
 1930
THE UNIVERSITY OF NEW MEXICO FIGHT SONG (1930-Present). In 1930, Dean Clauve, the professor of music education and the Dean of Women, created the rhythm to the Fight Song while Dr. George Clair, professor in the English Department, wrote the lyrics. The original purpose was to raise money to cancel a debt for the school newspaper but it soon turned into the school Fight Song that would unite the UNM community.
The lyrics of UNM Fight Song:
Hail to thee, New Mexico,
Thy loyal sons are we.
Marching down the field we go,
Fight for thee.
RAH! RAH! RAH!
Now we pledge our faith to thee,
Never shall we fail.
Fighting ever, yielding never.
The UNM Fight Song is sung by students, faculty, and alumni during freshman orientation, sporting events, and other UNM public activities. But only a few know of its original economic purpose. During the process of publishing the school yearbook, the "Mirage," the yearbook team ran into vast debt. In order to raise money, Dean Clauve, who worked at UNM for 32 years, and Dr. George Clair composed the song we know today and had it performed during a faculty variety show, sponsored by the Faculty Club. In the end, sufficient funds were raised and the yearbook team was able to repay their debt. Not only was the "Mirage" a success but as well as the outcome of The Fight Song. The student body, faculty, alumni, and UNM as a whole, all willingly supported it.
In the early 19th century, the University of New Mexico was striving to become a traditional University. An important aspect of the traditional University is the unification of the student body and school. A fight song is a great way to build community and school spirit. In UNM's fight song, it echoes admiration for New Mexico, and the determination and resiliency of the players. Its catchy beat and lyrics are what makes it so distinguished. Next time you're at UNM sporting event, take a look around as the band plays the song and see the sense of pride for the school as well as the comradery among the community.
Jordan Matthew Melendez, History, 2021
Further Reading:
To listen to The Fight Song:
"University of New Mexico Fight Song." 2011. Youtube. July 5. https://youtu.be/-JB-81vTemE
Association, UNM Alumni. 2017. "Spirit and Traditions." UNM Alumni. The University of New Mexico Alumni Association. Accessed November 28. https://unmalumni.com/spirit-and-traditions.html.
Photo courtesy of the Center for Southwestern Research, University of New Mexico