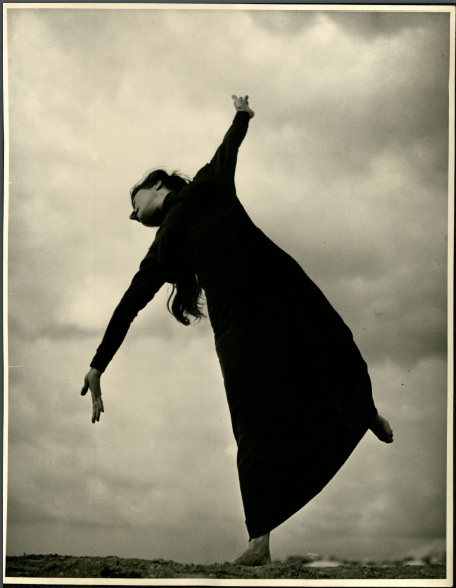 Elizabeth Hannah Waters
 1946
Elizabeth Waters was the pioneer of modern dance in New Mexico and founded the dance program at UNM. She traveled from her hometown of Salem, Oregon to New York City in the 1930s to study dance under Hanya Holm, one of the founders of American modern dance. Walters first visited Albuquerque while on tour with her company "Dancers en Route" and was captivated by the region's beauty and cultures.
Waters moved to Albuquerque in 1942. Because of WWII, resources were scarce. She taught dance classes in exchange for food and also worked as a welder at Kirtland Air Force Base. New Mexico's Native American culture and traditional dance inspired her choreography. Waters lived at the Zuni pueblo learning about their ceremonial dances and relationship with nature and art. Waters incorporated their techniques into her performances. Her style of dance was described as thoughtful, weighted, and with a sense of flow. She would speak of going out into the desert to improvise and develop her own "philosophy of movement."
Waters joined the UNM teaching staff in 1946 and first taught classes through the Division of Adult Education, since modern dance was a very new and unknown style. After a performance in Rodey Theater titled "Dance in the Americas" she received sponsorship from the departments of Dramatic Art, Modern Language, and Physical Education for Women. She accepted a full-time position in 1961.
Waters transitioned modern dance from physical education classes to a full major in the Fine Arts department. This was one of the first Modern Dance programs in the country. While at UNM, Waters choreographed more than 50 dances. She directed the "UNM Dance Troupe" for 25 years and choreographed their annual recitals. Waters resigned in 1973, but continued to perform and teach modern dance in New Mexico with her company, Elizabeth Waters Dance Workshop, Inc.
The New Mexico Arts Commission recognized Waters' triumphs with the Excellence and Achievement in the Arts Award on Oct 17, 1975. Governor Apodaca presented her with the title of "First Lady of Dance in New Mexico." She continued to teach classes until her death in 1993. Carlisle Gym was renamed the "Elizabeth Waters Center for Dance" to honor the dedication Waters had to modern dance and New Mexico.
Sophia Fletcher, B.S. Mechanical Engineering 2018
Further Reading:
Elizabeth Waters Papers, Center for Southwest Research, University of New Mexico, Collection #: UNMA 104
Sarah Stanley, Elizabeth Waters:  1910-1983, for Helen Bannan, Womens Studies Program Thesis, 1983