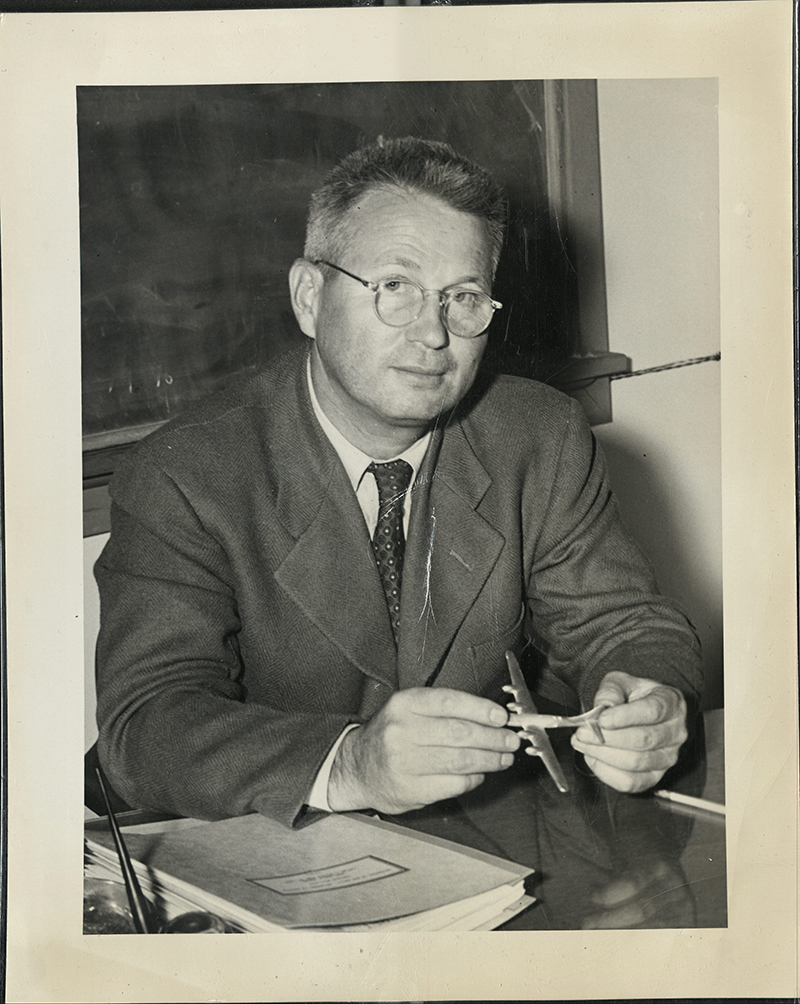 EJ Workman
 1933
Everly John Workman, although he preferred the shortened version of EJ, was a scientific man who earned the respect of various people around the globe in his lifetime. He was born in 1899 in Loudonville, Ohio. Workman completed his undergraduate career at Whitman College in 1924 at Walla Walla, Washington. He married his wife Rosella Boner in 1926. They never had any children. He later received his PhD at the University of Virginia in 1930. He worked at the California Institute of Technology from 1930 to 1933.
In the year of 1933 at the age of 34, Workman received a letter from Dean G.P. Shannon, offering him a job at the University of New Mexico in Albuquerque. Workman responded saying he would be happy to accept the job given certain conditions. The University accepted his conditions after he voiced his concern for the level of technology within the facilities. Workman was concerned that the tools were too much like toys, and they needed to be modernized in order to inspire students to pursue knowledge. Dean Shannon agreed and Workman was off to Albuquerque to be the head of the physics department. While at the University, Workman more than once requested leave of his academic duties, in order to further pursue research. This was warranted especially by his appointment to Director of Research Projects for the United States Government in 1941. While working as director, Workman was designated by the Office of Scientific Research to an urgent job on a new type of fuse invented by British military researchers who lacked the resources to perfect and develop their project. Workman succeeded in this venture, adding an incredible contribution to the Allies military technology.
In October of 1945, Barbara Bailey wrote that the VT fuse was "rated by the Navy as second in scientific wartime importance only to the Atomic Bomb in Scientific Feats." This fuse allowed explosives to detonate before contact, drastically improving effectiveness with anti-air weaponry as well as other explosive ordinance. In a resolution sent out to the Secretary of War, the Secretary of the Navy, and the President of the Board of Regents, the fuse was described as a "Tremendous improvement in destructive efficiency" that would save lives in its expediation of the war.
On February 19th, 1946, Workman submitted his resignation to Dean J.C. Knode. He wrote in his letter that he was leaving in order to allow for the "proper organization of the Physics Department" and that he was happy to assist in any way possible. From there Workman went on to become President of the New Mexico Institute of Mining and Technology before moving to his bliss as Director of Cloud Physics Laboratory at the University of Hawaii. Workman died of natural causes in 1982 at the age of 83, but he will always be remembered for his love of science and willingness to help our country when we needed it most.
Jake Weber, psychology, '19
Further Reading:
EJ Workman to J.C. Knode. February 19, 1946.
EJ Workman to G.P. Shannon. April 8, 1933.
MS, EJ Workman 1933-1946, University of New Mexico.