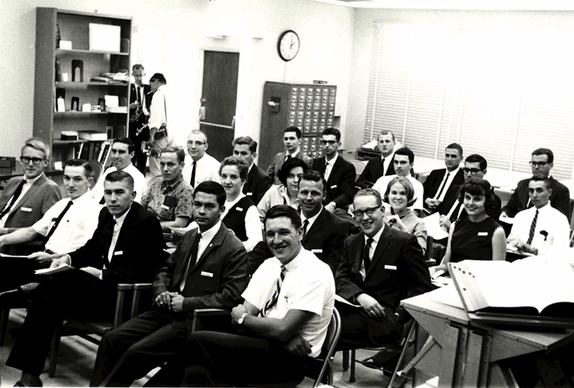 Bringing Medicine to New Mexico
 1964
In an interview with the Albuquerque Journal, then UNM President Thomas Popejoy commented, "In the fall of 1958, the state of New Mexico had only nineteen students accepted in medical schools over the nation."  In 1959, the Western Interstate Commission on Higher Education published a report entitled "The West's Medical Manpower Needs," which highlighted the shortage of physicians in the American West.  The report estimated the shortage of physicians in New Mexico would be dire by 1970. 
Popejoy felt that founding a new medical school was the best solution to this escalating challenge.  He requested input from the New Mexico Medical Society and various medical education organizations.  In 1960, the American Association of Medical Colleges and the American Medical Association issued a report favoring the creation of a new medical school at UNM.  In 1960, both the UNM Board of Regents and the New Mexico State Legislature both approved the founding of a two-year medical school, and the state legislature appropriated $25,000 for this purpose. The university purchased an old Seven-Up factory and mortuary, which was converted into the school's anatomy lab, and began constructing the state's first medical school.
The first medical school class was selected from more than 200 applicants and began their studies in fall 1964, including courses in the school's original departments of biochemistry, internal medicine, molecular biology, pathology, psychiatry and surgery.  As a two-year program, the school was initially intended to provide only preclinical education, but in 1966, it was expanded to a four-year medical school with connections to the Bernalillo County Indian Hospital (renamed the Bernalillo County Medical Center in 1968 and acquired by the School of Medicine in 1969) and the Albuquerque Veterans Administration Hospital. 
UNM School of Medicine graduated its first class of physicians in 1968.  In the same year, it received full accreditation from the Liaison Committee on Medical Education.  Today, it remains the largest medical center in the state, a hub of medical research and innovative center of medical education.
Reflecting back on the founding of the medical school, former UNM School of Medicine Dean (1968-1972) and NIH Director (1973-1975) Robert Stone, MD said:
What insight and courage of the people in the state and in the legislature to be willing to invest in a medical school, to believe that a small, I'll say rural at the time, university could have a medical school.  It was a long shot.  None of us knew it could succeed.  What vision.  That has overwhelmed me, and still does.
---
Works Cited
Davis, William E.. "Thomas Lafayette Popejoy - Biography." (2006). https://digitalrepository.unm.edu/president_bios/15
Wang, Dora, and Shannan L. Carter. The Daily Practice of Compassion: a History of the University of New Mexico School of Medicine, Its People, and Its Mission, 1964-2014. University of New Mexico Press, 2014.
Western Interstate Commission for Higher Education. (1960). The West's medical manpower needs. Boulder, Colorado.
Rudolf Leyba, Anthropology, 2022